CHRISTMAS MEMORIES
A.L. Laibe - told in Nov. 2011
Christmas on East Third Street, 1929 - 1934:
When I was a little girl, we lived on East Third Street in Ottawa. One year mom told my brother and I, there was not much money for presents. She told us we would only receive our Christmas Stocking. Which, in those days was one of our own stockings which we would hang up. (We did not have any of the fancy Christmas Stockings of today) Usually we would receive an orange and maybe some candy, if we could afford it. She told us our little sister was going to get a tin dish set this year that she had admired. My brother and I thought that was just fine. We had a nice Christmas. Dad always made sure somehow that we got an orange in our stocking because he always did the grocery shopping. Some of those years were so lean, there was no Christmas tree. One year, dad did the grocery shopping on Christmas Eve. It was closing time at the grocery when he finished and was ready to leave. The grocer was aware he had no tree and gave him the decorated tree they had in the store. My what a special Christmas, we had a tree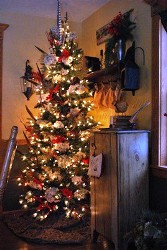 when we thought it was going to be a Christmas without one.
---
R.J. Martin - told in Nov. 2011
Christmas in the country, 1936 - 1945:
At Grandma Hornungs when we were little, we always sat on the stairs and visited except when it was our time to eat. You were never allowed to go up stairs. After we moved there, we could go upstairs but not into Uncle Neil's bedroom. Christmas dinner was always the noon meal. The men always ate first, then the kids. The women always ate last and visited till it was time to clean the kitchen. Sometimes we would stay for supper also. (This was of course before mom and dad had moved to Grandma's to help her.) One time, I beleive I was watching Kenny and he was very hungry and wanted something to eat. The men were still at the table eating and I was told he would just have to wait till it was the kids turn. You did not interupt the mens meal to feed anybody.
---
M.L. Johnson - Nov. 2011
Christmas in the country, 1936 - 1940: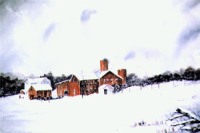 Christmas at Grandma and Grandpa Hornung's was always great. There was a living room, huge kitchen, and bedroom downstairs. When we were little, before we moved there, we were never allowed to go upstairs. Back to Christmas - Most all of mom's brothers, sisters and families came home for Christmas dinner. The men were fed first and then went into the living room to visit, next came us kids, then the big boys went outside to play, we little ones sat on the stairs and visited. The women ate last and sat and visited.
---
Christmas on Sherman Street, 1950 - 1970's:
I do believe we even tried the Grandma Hornung setting arrangement at Mom and Dad Croy's (Ray and Louise that is) They had a tiny, tiny kitchen (where everybody wanted to visit, and Mom would say, "go sit down"), dining room, living room, small bedroom downstairs at that time. We all brought food to share. I remember their tinsel tree -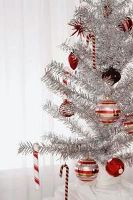 I thought it was ugly. But there we were, all of us kids and all had a great time. The grandkids (all 31 of them) always got $2.00 in an envelope from Grandpa and Grandma, the granndkids thought this was great. We always got $20.00 as a couple. The year Bill passed away, I was hoping I would still get $20 because I could have really used it, but I got $10. Still really appreciated it though
---
Christmas after Sherman Street, 1970's - 1980's:
Eventually we moved our Christmas around, and toward last I believe we had it at Ken and Barb's - they had the bigger place. One time when it was my turn to have Christmas, Jack and kids were living with me then - which made a full house - we went the night before to Barb and Ken's house, to have our turn for Family Christmas at their house. We stayed over night and helped get ready for the next day. I remember the year we had it up at the Hotel - didn't like that arrangement. None of us did.

When it was at Bing and Mary's, Bing usually baked a ham. His hams were always so good. After it was baked,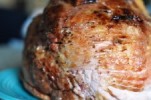 he cut up onion

slices and put on it. It gave it a great taste.
---
COUSIN MEMORIES:
l. "Sally" (Selhorst) Siefker - Nov. 2011
Grandma Hornung always made sure you had one of her big sugar cookies.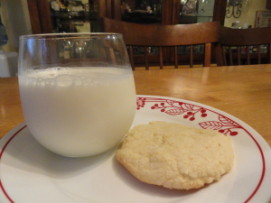 Nobody seemed to make them as good!
---
K.E. Croy - Nov. 2011
Christmas on East Third Street
Feb 1937 - April 1938 I was born in 1937 when we lived with Grandma and Grandpa Croy. I have no Christmas Memories from 3rd Street.

Christmas on Route 109 at the edge of Ottawa
April 1938 - April 1939
I have no Christmas Memories from Route 109.

Christmas at the Maag Farm south of Ottawa
April 1939 - May 1942
Also from no Christmas Memories from the Maag Farm.

Christmas at Grandma Hornung's
May 1942 - May 1945
Christmas's were very special at Grandma's. Aunts, Uncles and cousins, all who could, came to visit and all brought their "special" family foods. Some came days ahead of time to help prepare the food. Grandma worked hard preparing her special Christmas candy, (Click the photo to view larger) Divinity Fudge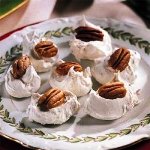 and hard candy. Grandma's kitchen smelled good all year around. I received a Lincoln Log set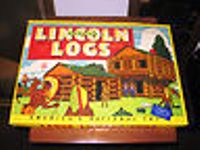 and a Tinker toy Set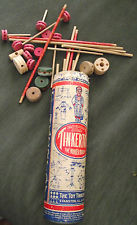 one of the three Christmases at Grandma Hornung's. I always did like to build not to trash (on purpose).

FOOTNOTE: from the baby of the Ray & Louise Croy family. Both of our parents died in December of 1984, Mom was 84 and Dad was 88. Our oldest brother died in 1999 at the age of 77. The second oldest of the girls died in 2011 at age 85. We were fortunate to have enjoyed many years together as a family. The rest of us, 88, 81, and 75, still have a lot of work to do and are still around. What a joy it was for my three sisters and I, to have visited and dusted off our memories to set up this webpage. Everyday more cobwebs disappeared and reminded each of us of the joys of our family. Sad that our brother had passed away and could not relate his memories. Great that we have the memories from our sister before she passed away later in 2011. The remaining three of us visit regularly.