---

MEMORIES



 The "Good Ole Days", when money was scarce
 and nobody knew what a credit card was!!
---
Maag Farm: 1939-1940/1941
We took care of the Maag farm while their boy was in the service. The rationing probably didn't affect us so much there, for we had cows, pigs, chickens, garden, fruit trees. We made own our own butter.
Grandma Hornungs: 1941-1945
I started my sophomore year in high school, while living at Grandma Hornung's. Alice came to stay at Grandma Hornung's while Bill was in Japan. I remember her telling that Uncle Neal, who lived at Grandma's also, was concerned about her bringing a crying baby there. Alice brought Frank anyway and as time would tell, Uncle Neal could not believe that Frank was such a good baby and rarely cried, never at night. Bing had joined the Coast Guard and when he would come home on leave, it was usually a surprise. But one would hear him whistling coming down the road. Back then the Greyhound would leave you off down at Rt. 65 (old Rt. 65 today) a quarter mile from the house. Bing always whistled while he worked on the Maag farm also. I do remember Bing saying that when their ship passed a Navy ship, they would each play their theme song for each other. The Coast Guard's was "Semper Paratus" ("Always Ready"). 2nd chorus (added 1943)
 So here's the Coast Guard battle song,
 We fight on land or sea.
 Through howling gale and shot and shell,
 To win our victory.
 "Semper Paratus" is our guide,
 Our pledge, our motto too.
 We're "Always Ready" do or die!
 Aye! Coast Guard we are for you!
The Navy's was "Anchors Aweigh".
Sherman Street: 1945-1950
Sometime during my sophomore year we moved to Sherman street in Ottawa. Don't remember a lot about rationing. Do remember taking stamps to the store for sugar, and butter. Gas was rationed. We had to save it for dad going to work. Of course we always walked a lot anyhow. Dad sold the car while I was still a sophomore, said we didn't need one. Actually, mom said he should not drive anymore. Dad had injured an eye at work, impairing his left side vision. The car had been parked in the parking lot across from the restaurant in the spaces next to the track. A semi-truck was hit by a train and debris (dual wheels) from the accident landed on the windshield of dad's car. Mom said, "Good time for you to quit driving with your eyesight!" Dad sold the junk car and did not replace it. We walked to store, work, school, church.
Restaurant days: 1945-1947/1948
Mom and Rita had a restaurant - open very late on Saturdays. We would clean the place up and go to 5:00 a.m. Mass, which they had during the war so people working in Defense Plants could go to church. Both dad and Rita also worked at the Tank Depot in Lima, not sure of the timeframe. No Saturday evening masses back then. After mass, everyone, mom, dad, and all who went, would come home and sleep.
Rex Theater days: 1945-1948
1.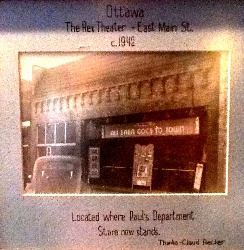 2.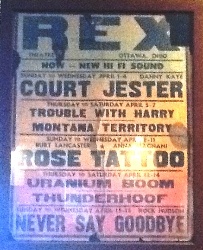 Click photos to view larger. 1. Movie is "Ali Baba Goes To Town" 1942 2. The movie poster is from April 1945 During High School, I worked at the Rex Theater, one of our two movie theaters. It was located two buildings west of mom and Rita's restaurant, right next to the railroad track. I also worked at one of the Dry Cleaners. It was located on one of the side streets, going north from Main St. The day the war was over, I sold the most popcorn in all the years I worked at the Rex Theater. People would purchase it and used it as confetti to throw in the streets.
Bill & Alice Laibe: 1946-1951
Bill Laibe left Nagoya, Japan on 27th Jan. 1946, 9:15 am on the USS General H. W. Butner to arrive in Seattle, Washington. Sometime later that year, he came for Alice and family, who was living with us on Sherman street. Shortly, they moved back to Des Plaines, where Bill worked as an x-ray technician, and on to Maywood, Illinois, where Bill worked in Hines Veterans Hospital as the head x-ray technician. From there, in the early 50's, they moved back to Ottawa and rented an upstairs apartment at the East end of town.
Sylvania Electric - 1949-1951
I started working at Sylvania Elec. around 1949 probably quit around Aug. 1951.